Shalo P, 2 BEGIN WITH
00016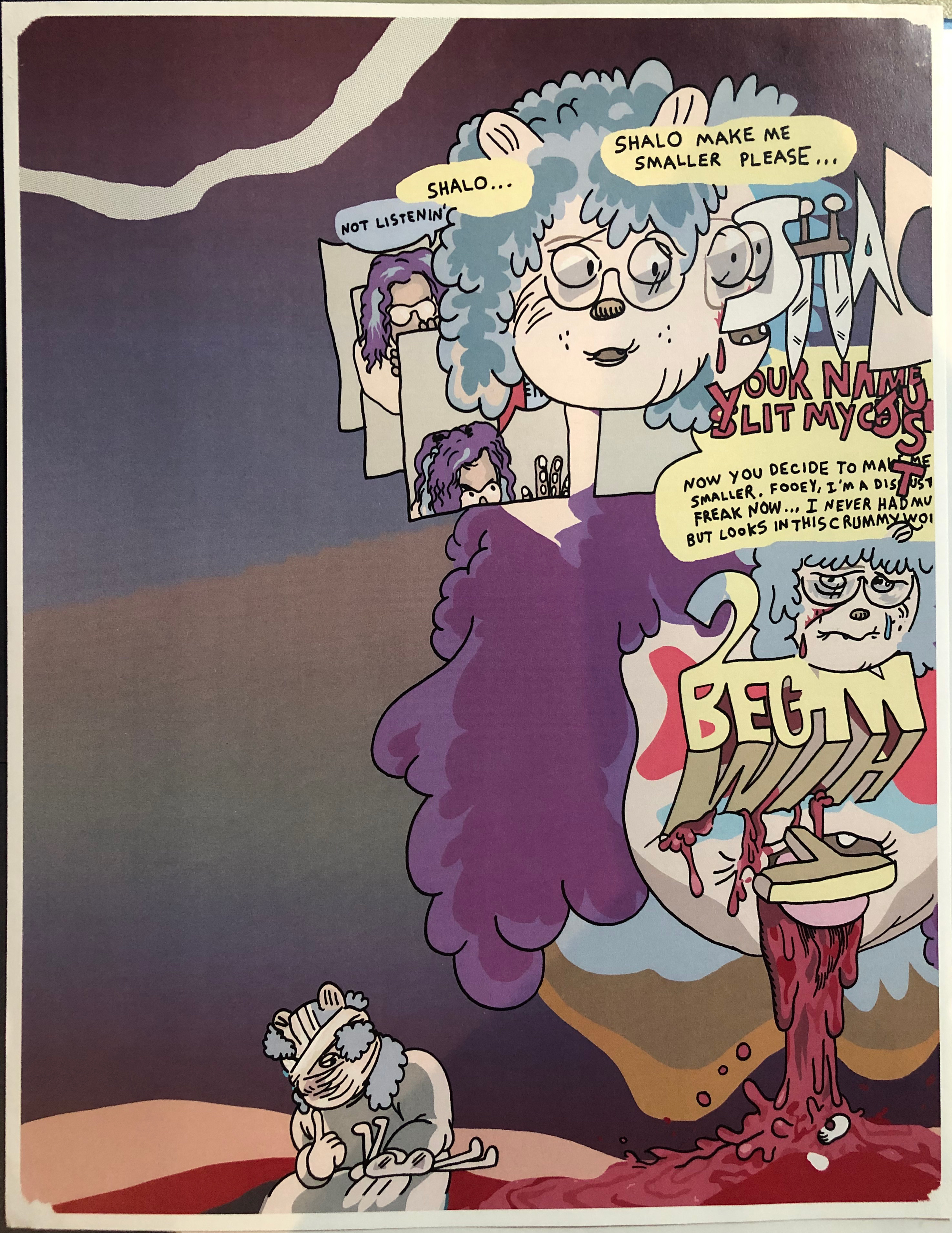 Shalo P, 2 BEGIN WITH, 2016, Signed print, 8 1/2 x 11''
Shalo P is an artist interested in RAW ENERGY. Television For Ghosts produces lovely books, movies, and music that are all smarty and monstrous in nature. There is a white path between them that boils and smolders. We are beloved in the town of San Francisco and frankly, anywhere where "motherfuckers don't give a fuck and shit gets fucking wrecked and destroyed on pure principle".
Shalo P is a San Francisco conceptual artist interested in REPETITION AND WHIMSY. As a founding member of THE FRIENDSHIP FRIENDS FOREVER (rainbow band), a sound / video ensemble, the creature was widely known for facilitating spontaneously ritualistic cinema / sound works similar to symphonic blood ceremonies. Shalo P is affiliated with the San Francisco performance / conceptual video scene, whose tragic comic strips have thankfully been published internationally, known in particular for non-sequential scenarios concerning the role of plastic surgery in spiritual perfection and ALL-AT-ONCE tales regarding a mysterious "overlapping of voids".

His work has been included in group exhibitions at public institutions in San Francisco including Yerba Buena Center for the Arts; Mission Cultural Center, and Adobe Books Backroom Gallery. Group exhibitions at museums include shows at SFMOMA (San Francisco, CA); de Young Museum (San Francisco, CA); the Snite Museum of Art (Notre Dame, Indiana); and the Torrance Museum of Art (Los Angeles, CA). Most recently, Shalo P completed a 2015 artist residency at Krowswork Gallery (Oakland, CA) accompanied by a solo exhibition, Valley.