Michelle Kuen Suet Fung, 2084 Imaginary Map print
00010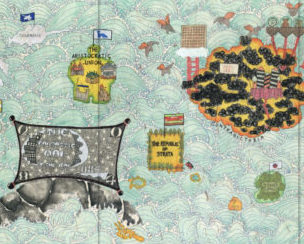 Michelle Kuen Suet Fung, 2084 Imaginary Map Print
Printed
on rice paper, 17x48", limited edition, signed.
"In 2084, Contradictoria has solved its pollution problem with Plan Polluta. Under this plan, air pollution is condensed into building bricks, which are used to build arcologies called "Polluta", floating green vibrant colonies for artists! Artist can live, work and show for free, forever! It sounds too good to be true. It is."
Following Hong-Kong artist Michelle Kuen Suet Fung's popular exhibition "Polluta, Floating Artist Colony in the Sky" in summer 2018, Pro Arts is proud to launch her publication that not only documents her exhibition but expands the narrative. This print is printed on rice paper, and a much smaller version has appeared in the the catalogue as a pull-out imaginary map, presenting all five imaginary countries in her grand narrative of the year 2084.