Custom Artist Edition Embrodiered Daisy Shorts by Amanda Church
PA020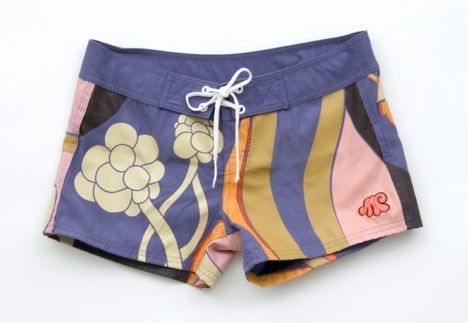 Custom Artist Edition Embrodiered Daisy Shorts by Amanda Church
Available in size XS, S, L. Please make notes upon purchase.
Amanda Church's board shorts -- made with reclaimed polyester fabric and her own colorful silk screen design -- have us looking forward to next summer's surf. Her limited edition collection (only 200 total) called Mandy Pants makes use of leftover fabrics and materials, and provides an unexpected canvas for her art. Click through for more photos, including the original painting that inspired the line.

"Room 412" painting by Amanda Church. Credit: Mandy Pants.
Amanda Church's collection of 200 shorts were sewn by a family operation in Peru -- paid fair wages and provided with benefits and no materials used in production were made to order. In total, only 180 meters of recycled fabric was used. The polyester is mass produced in China to meet the demand of large fashion companies. It is then imported and manufactured in Peru. Leftover fabric from large scale production is then sold to local dealers and sewers who produce garments in smaller quantities. We like how she keeps production on a small scale and utilizes otherwise wasted fabrics.
Photo credit: Mandy Pants
Photo credit: Mandy Pants

Artist Statement:
Imbuing geometry and architecture with an idiosyncratic Pop-derived sensibility, my recent paintings combine the body and landscape in reductive, large-scale oil paintings. The vibrant colors -- hot pinks and oranges contrasted with cool yellows, grays, and deep purples -- reflect the Los Angeles environs from which these scenarios were derived.
Biography:
Born Poughkeepsie, NY. Lived for two years in Hawaii before moving to New York City. Went to college in Bennington, Vermont, and also to the NY Studio School. Have maintained studio practice in NYC since graduating and have shown extensively here and elsewhere in the United States and Europe.